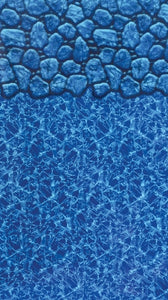 Pebble Springs Beaded Pool Liner 
Lomart's premium Pebble Springs pool liner is available in the beaded style. The Pebble Springs is designed to snap securely into the pool's bead receiver track, which makes installing the pool liner a "snap"! 
Lomart and Embassy pool liners are manufactured by Doughboy at their modern manufacturing facility in Arkansas. They use a special blend of natural, raw materials that ensure top-quality vinyl for all Lomart liners. The ultraviolet inhibitors protect the liner from the sun's rays as well as enhance longer life. In addition, all Lomart and Embassy liners are sealed with Fusion-Weld™ a sealing technique which provides durability and superior quality.
Whether you own a Lomart or Embassy swimming pool or a standard above ground pool, Lomart/Embassy pool liners will fit perfectly and out perform any other above ground pool liner available.
Features:
E-Z Clip Beaded Design
15 mil. Premium Virgin Vinyl
15 Year Warranty
Fusion-Weld™ seam sealing technique